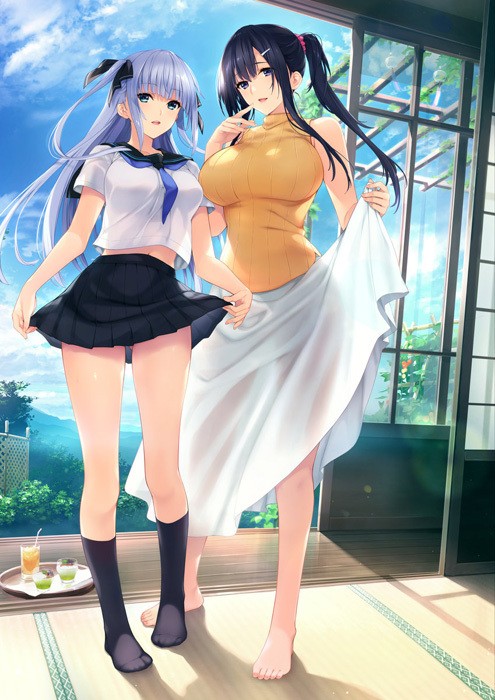 VNDB | EGS | Getchu | Official Website
The island of Minase – it is a remote island and not a tourist attraction due to poor accessibility.
It is a remote island and not a tourist attraction due to its poor accessibility, but
It was an island where the protagonist used to visit as a child.
After entering medical school, his parents, who were worried that he was losing his patience due to daily study, came to the island to refresh him.
The protagonist comes to the island again after being advised to visit his cousin during his summer vacation to say hello.
What comes to his mind is the time he spent there as a child and the cousin who treated him like a real family member.
Suiren, who had been beautiful since she was a child and treated her like a real sister, who was very kind to her and treated her like a real sister.
Shion was like a little sister who was a tomboy and used to follow her around a bit behind her back.
The protagonist wonders how the two of them have grown up.
She arrives at the home of the sisters she had heard about and is reunited with the two grown-up sisters.
Suiren has become a beautiful woman with a stunning, feminine body that shows an overflowing receptivity.
Shion, who has grown into a beautiful girl, but has a somewhat sullen look on her face and only speaks to us with the bare minimum of conversation.
The older sister who never changes and the younger sister who has changed.
Feeling confused, she does as recommended by Suiren, who seems to have been waiting for the protagonist for a long time.
It's time to stay at their house for a while.
How will she spend her time with them on the island under the summer sun?
Promotional Video/Opening
Sample CGs
Please Read The FAQ and PASSWORD Section Before Asking Stupid Question, I Won't Answer Any Stupid Question